BMC27. Random Rhythm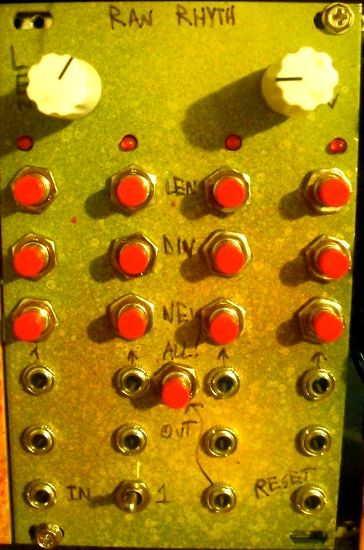 The Random Rhythm module is a 4 channel randomized rhythm sequencer. A single clock controls all four channels. The length and rhythmic subdivision of each channel can be controlled separately. There are additional controls for resetting all sequences to 1 and forcing an onbeat on the first beat of channel 1's sequence.
The board features PC mounted pots for less wiring, and mounting holes for flexibility in panel layout. There are Eurorack and MOTM power connecters. It can be built in +/-12V or +/-15V systems.
For complete information on this module, download this PDF file.
PCBs are available for $18.
Unfinished panels are for sale for $9 each. Please read this page on unfinished panels before ordering.
If you'd like to drill your own panel, here is the drill guide that I use to make these panels. It should be printed at 300dpi.