BMC47. Balanced Outs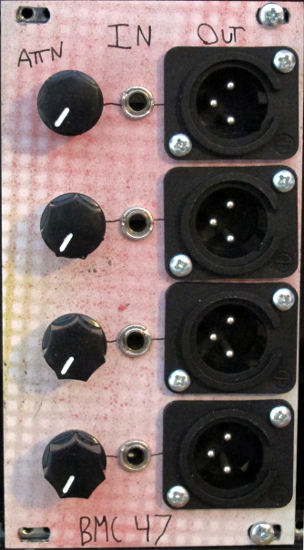 This module provides four balanced outputs for a modular system. Each channel has an attenuator. This module is useful for multi-track recording or for live sound.
The board features PC mounted pots, for less wiring and also mounting holes for flexibility. There are Eurorack and MOTM power connecters. It can be built in +/-12V or +/-15V systems without any modifications.
For complete information on this module, download this PDF file.
A PCB is $8.
Unfinished panels are for sale for $12 each. Drilling large holes for the XLR jacks requires a special bit and is more difficult than a normal panel, so I'm charging more for these than I normally do for panels.
Please read this page on unfinished panels before ordering.
If you'd like to drill your own panel, here is the drill guide that I use to make these panels. It should be printed at 300dpi.